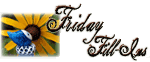 1. Right now, I'm feeling happy, anxious, excited and busy.
2. Where my husband is, is where I want to be.
3. How does one managed to own several cars during these days?
4. My positive outlook in life keeps me on track.
5. Please don't act as if you know everything.
6. My daughter fills me with joy.

7. And as for the weekend, tonight I'm looking forward to
our church rehearsal
, tomorrow my plans include
going to supermarket for our weekly groceries and attend our church meeting after
and Sunday, I want to
go somewhere relaxing
!
More fill-ins
here
:)