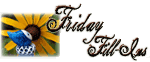 1. October has come! It's 82 days before Christmas :)
2. Crawling insects like cockroaches scare me!
3. Leaves are falling all around, it's a mess :D.
4. My favorite horror movie is none because I do not watch horror flicks.
5. My wedding and giving birth to my daughter = good memories.
6. It was a dark and stormy night two nights ago. I went home soaking and shivering :D
7. And as for the weekend, tonight I'm looking forward to watching my favorite TV show, tomorrow my plans include paying our house's equity and Sunday, I want to maximize my time with my daughter!

More entries here.