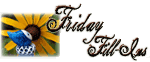 1. Follow the rules.
2. My camera is something I always take with me on vacation.
3. To achieve your goals, you must never stop aiming high, strive and persevere.
4. My love for cooking is something I'd like you to know about me.
5. I have a lot of work to do today though the boss is not around.
6. My daughter loves seeing paper boat floats.
7. And as for the weekend, tonight I'm looking forward to dinner with my daughter, tomorrow my plans include getting her a passport and Sunday, I want to relax and unwind!


For more fill-ins entries visit here.