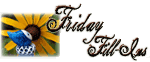 1. More working Holidays are some of the things I'm most looking forward to in October.

2. Sometimes I am overly preoccupied with online tasks that I'm not able to give my full attention to my daughter at home..I feel guilty.

3. I was able to finally leaned how to drive, I was able to faced my fear, and that's why there is a saying, "never say never"!

4. When I'm down, I talk to friends or listen to music.

5. In the kitchen of our house is where you'll find me most often.

6. A rainy day is good for a hot soup while cuddling and snuggling.

7. And as for the weekend, tonight I'm looking forward to watching my fave TV show, tomorrow my plans include general cleaning and going to SaveMore to buy groceries and Sunday, I want to relax!


More entries here. Happy Friday!