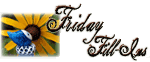 1. Dancing to the

rythm

while

singing

makes me

exhausted at times but it's one way for me to stay fit while doing the things I love.
2. The last time I

talked to my husband

I nearly

cried, I miss him so much

.
3. When I drive
(I

hope I'll learn fast...) I'll make sure I'm a good and patient driver.
4. I saw my

curious little daughter

standing

right behind me while cooking our dinner last night.
5. Give me

time

, give me

your extra patience

, give me

space and I'm sure I'll learn driving in 7 days.
6. Next week I am looking forward to

the holiday and another driving session

.
7. And as for the weekend, tonight I'm looking forward to

our rehearsal
, tomorrow my plans include

s attending my first day of Driving Class
and visiting the office our developer to submit our HLA

and Sunday, I want to

go to the market, finished the book I'm reading and enjoy the rest of the day with my daughter
!
More FF participants here.