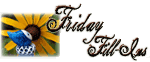 A smile is a great way to brighten my day.
Scrabble is my favorite board or card game.
I would love to have more blessing in my life and less stress.

When I think of the Summer Solstice, I think of the beach and summer escapades.

I just remembered I need to call my daughter's pedia to confirm our visit tomorrow.

One of my favorite song lyrics goes like this: I've been living with a shadow overhead...I've been sleeping with a cloud above my bed.

And as for the weekend, tonight I'm looking forward to our rehearsal for our Sunday Service, tomorrow my plans include playing with my daughter and Sunday, I want to have time to read a book and rest!
Want to join? Click here.