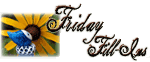 Birthdays are always special.
Christmas is my favorite season because here in the Philippines, it means long vacation, parties and food!
I feel my best when I'm rested and had enough sleep .
Pasta is my favorite food!
First impressions are long-lasting they say, and people are almost always surprise when they are mistaken.
The best piece of advice I ever received was "to learn from the past, let go and move on".
And as for the weekend, tonight I'm looking forward to watching my favorite TV show, tomorrow my plans include attending a worship seminar or get my daughter a passport and Sunday, I want to feel lazy reading a book on my couch and rest!
Visit here for more friday fill-inns participants!