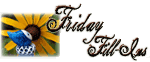 Owning an Air Book is high up on my bucket list.
My favorite quote is Charm is deceptive, and beauty is fleeting; but a woman who fears the LORD is to be praised; it's from Proverbs 31:30 of the Bible.
Members of WaW inspired me to start blogging.
Strawberries are best when chilled or when made into sweet strawberry jam.
Going back to school and meeting my college classmates is in the last dream I remember having.
The most enjoyable time to go for a walk is during late afternoon with hubby, walking with me.
And as for the weekend, tonight I'm looking forward to snuggling with mydaughter, tomorrow my plans include visiting my daughter's pedia and Sunday, I want to celebrate father's day and eat out!