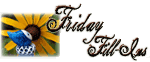 1. Oh, I am so excited!

2. The world changes, big and little.

3. During weekends, I see to it that I spend it with my daughter.

4. 22 inches waist line after belly dancing; are you kidding me???

5. Right now I'd like to be ready for leading the Sunday worship service.

6. My cellphone is my favorite gadget.


7. And as for the weekend, tonight I'm looking forward to checking my emails at home since I can't open yahoo here..there seems to be a problem, tomorrow my plans include going to prayer mountain, visiting the village where our house is being constructed and attending the board meeting of our high school alumni association (I'll have a busy Saturday) and Sunday, I want to go jogging (late afternoon) at our sports park with my daughter!

More participants here
.