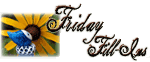 1. Holidays in the summer are a great time to schedule family reunions.
2. Hotdogs, barbeque and corn in cob are my favorite things to grill.
3. My thoughts are filled with apprehensions, about getting a new house, thinking of our finances and thinking of quitting my job.
4. A fun day at the mall is what I'm most looking forward to this weekend!
5. My favorite book so far this summer is none, haven't started a book yet.
6. Praying is the best way to begin a day.
7. And as for the weekend, tonight I'm looking forward to a great rehearsal for Sunday's service, tomorrow my plans include visiting a house for sale with an agent, and bonding with my daughter and Sunday, I want to go to church.


Visit here for more Friday Fill-Ins Participants!