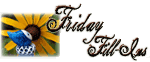 Oh, I can't wait until I have a new

DSLR camera

:D

.
Water is the first thing I see when I open my refrigerator. (lol!)
I never leave home without

my wallet and mobile phones

.
If I were a condiment, I would be salt because without salt, a lot of food would taste bland. And to relate, I know I'm important just like the salt.

Drivers who do not respect pedestrians and pedestrian lanes

is really high up on my list of pet peeves.
The last thing I thought of before I went to bed was

my conversation with hubby

.
And as for the weekend, tonight I'm looking forward to

watching my favorite tv show

, tomorrow my plans include general cleaning of the house and Sunday, I want to go to church then watch DVDs at home

For more Friday Fill-Inns participants, visit here.