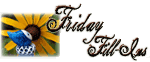 1. Snow
won't be seen in our country
.
2. I'm looking forward to
the long Christmas vacation
.
3.
Fried Chicken
is the best
easy to cook food
ever!
4. One of my favorite old tv shows is
Baywatch
.
5. I'm done with
sending our Christmas Party invitations. Next on the list is the Highlights of 2008 and video editing for the games...haayyy so much to do, yet so little time!
6. The most enjoyable thing around the holidays is
the long vacation when we can bond with the whole family doing fun activities and enjoying delicious food!
7. And as for the weekend, tonight I'm looking forward to
watching my fave TV show
, tomorrow my plans include
shopping for Christmas gifts
and Sunday, I want to
finish the Christmas Party decoration.
More fills ins
here
.