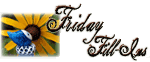 1. Join me in celebrating my daughter's birthday.

2. Put a little thrill in your day!

3. Happiness is a summer vacation with family.

4. She's worried and confused.

5. I'm waiting for hubby's coming home.

6. Blogging is hard to resist.


7. And as for the weekend, tonight I'm looking forward to
our rehearsal
, tomorrow my plans include
general cleaning and attending our meeting with the pastor at night
and Sunday, I want to
finalized our family outing with my sisters
!
To join and to read more FF entries,
visit here
!