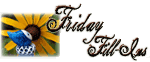 1. Angel or not, I will be your guide.

2. I will cook it any way you want me.

3. As my mother used to say, you're full of jest.

4. I want to rest after I'm done working out or doing something strenuous.

5. Even in the most crowded of rooms I can recognize your voice.

6. The day of the Ultra Stampede is a day fraught with peril.

7. And as for the weekend, tonight I'm looking forward to our voice chat with hubby, tomorrow my plans include going to the prayer mountain and joining our filmagine and Sunday, I want to go to mall with the little girl!


More fill-ins here!