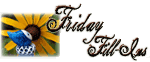 1. Why do we have to suffer the consequences of somebody's fault?

2. checking email every morning and blogging are now habits.

3. I have a runny nose right now.

4. I had never heard the phrase "LOL" and it confused me before, but now I came to understand it and used it so often. Lol!

5. I want to do it the way I always do.

6. How was I to know a place where I've never heard before and never been into in the first place?.

7. And as for the weekend, tonight I'm looking forward to snuggling besides my daughter early, tomorrow my plans include visiting the office of the summer swimming class for my daughter and Sunday, I want to finish reading my book!

More FF entries here.